Transfer lines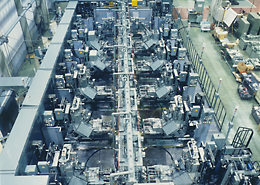 Having continually adapted to changes taking place in the automotive industry, our transfer lines represent a culmination of machine tool technologies that can accommodate highly accurate and high-efficiency manufacturing on a variety of engine and transmission mass production lines.
Transfer Machines

Transfer machines have a simpler mechanical structure than machining centers, which reduces the amount of time required to start up a line or respond to troubles, making them ideal for small-lot, high-volume production.

FTL

Flexible transfer lines (FTL) are best suited for medium-lot, medium-volume production. FTL includes machining centers between transfer machines and pallets used for feeding, which ensures that production volume can be maintained.

FMS

Flexible manufacturing systems (FMS) are ideal for small-lot, small-volume production. FMS can more easily accommodate model changes or machining modifications.