Rodless cylinders (slit type)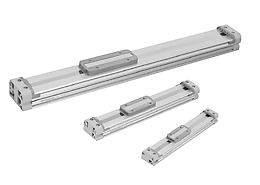 Rodless air cylinders take up half the space of conventional cylinders. The pistons and sliders of these cylinders are coupled and sealed with a metal band.
Product List
ORV Eco Rodless

A thin rodless cylinder costs half the price (compared to other Howa Machinery models) thanks to its robust value engineering design.
The end cap can be attached directly without an installation bracket.

ORC/ORCA Basic Model

Takes up half the space of other conventional pneumatic cylinders and its long-stroke design enables high-speed work.
Can pipe in one direction (ORCA).

>ORGA Rod-less Cylinder with Guide

A rodless cylinder with a plastic plate guide (sliding spindle bearing) is used as a guide for the cylinder barrel.
Can mount a shock absorber and adjuster bolt.

ORK Rodless Cylinder with Cam Follower Guide

A rodless cylinder with a cam follower guide (rotating spindle bearing) for which the cylinder barrel acts as a guide. Capable of smooth work at high speeds.
Can mount a shock absorber and adjuster bolt.

ORS Rodless Cylinder with Linear Guide

The rodless cylinder is positioned next to the combination L-shaped base and high load linear guide, creating a lightweight and compact design with the same high rigidity.
A shock absorber comes standard.

ORW Red-less Cylinder with Two Guides

Offers excellent stability and reliability because it uses two high-rigidity and high-precision linear guides.
Can be directly attached at the end plate.